I'm hard at work at WILD HORSES.
But then a new hero/heroine tapped me on the shoulder.
It's not just them! They brought a whole crew of friends as well, and there'll be a series of at least three novellas in the same series: Circle of Friends. The first one? HOW CAN YOU MEND A BROKEN HEART?
Want a preview of the first one? Working blurb (subject to change) is below.
~*~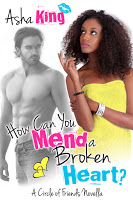 Joshua Lee Merrill has been a playboy for years, never content to settle and convinced there's no such thing as "the right one"—just "the right
now
." For a while, he thought he had the perfect woman—until she summarily dumped him and gave his ego a severe thrashing. His group of friends are there to help with his broken heart…but it's his old pal Derica who suddenly has him hot with desire.
Derica Washington nursed a crush on her friend Josh for years while he went through a string of girlfriends and never gave her a second look. But now he's broken-hearted, alone, and his sights are set on her at last. She's determined not to give in to him, though turning the love 'em and leave 'em attitude on him is tempting. And it can't hurt to indulge this once…can it?