Surprise! Happy Halloween: I have a new paranormal romance release!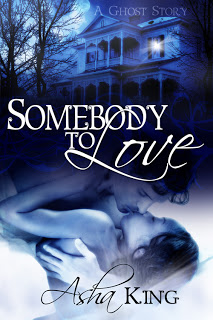 The empty house at the end of Landsdowne Lane is supposedly haunted.
Among the alleged ghosts is a couple who died young and, legend has it, they possess the living and draw true love to the house for a night of passion before dawn comes.
Marie and James are about to find out if it's true.
I didn't announce this one ahead of time as I wasn't sure if I'd have it done in time. As you may have guessed, I've taken a bit of a break with things, but I'm hoping to have a few projects to you soon. Among them? A Christmas novella featuring Dani and Adam from WILD HORSES!
Right now, Somebody to Love is available immediately on Smashwords in a variety of formats (use the coupon code PY45B to get 10% off until November 1!), and it's pending distribution at Kobo and other sites. Update: Now it's live on Kindle. Update: Also on Nook.
Take care, those of you on the eastern coast, as the storm approaches!