Well, I Who Have Nothing should've already been out, but I admit, this one's my fault–for some reason, this book has been a total pain to come together. I reached a point where I had to say, okay, do you keep beating your head against a wall, or do you move on to something else? Hoping that some distance will help when I go back to IWHN, I decided to work on Sympathy for the Devil, the sequel to Wild Horses.
And this one's definitely flowing! I'm hoping you'll get to see it late July or maybe August.
It's decidedly darker than Wild Horses. The humor readers enjoyed from the first book isn't really present, as it's a different couple and therefore a different tone. The suspense/mystery is heightened and is firmly at the forefront, though the sex is still steamy and kinky. It's a bit of a departure but I'm loving it.
So that's where things are with me. Afterward, I'll finish up I Who Have Nothing, update with more details about Cats in Heat, get started on Gimme Shelter (Stirling Falls #3), and go from there. Longer books do take longer to write, and while I'd love to add a few fun novellas here and there, I learned my lesson with WH: Cold, Cold Winter (I think everyone hated that *sigh*). If I'm quiet, know I'm still hard at work!
The blurb for Sympathy as a refresher: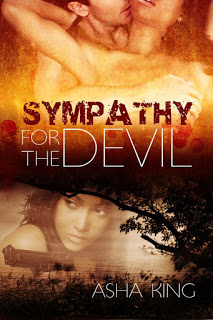 Natasha Whitaker is a workaholic, putting in long hours to acclimate herself to the P.I. business in preparation to take over for her aging mentor. But the day after her boss's retirement doesn't bring the usual insurance fraud and cheating spouses: instead, a dead body shows up in a startling similar fashion to a home invasion cold case from years ago.
Complicating matters is the return of Devin Archer–estranged husband of the original victim–to Stirling Falls. He was the prime suspect in the first case, though slipped away when there wasn't enough evidence to prove his guilt. With bodies piling up the same time as his arrival, all eyes in town turn to him once again.
Tash is hired by the brother of the first victim to keep tabs on Devin, a task she eagerly accepts. But she can't help her attraction to this dark, potentially dangerous suspect, or deny the instant heat between them. Is Devin a broken man still suffering from the loss of his wife, or a cold-blooded killer setting his sights on Tash as his next victim?
One final note: my publisher Phaze is having a summer sale. Until September, you can get 20% off everything. Enter the coupon code SUN at checkout. You'll find a list of my current and upcoming books here.