Do you like good-looking men and hot books like I do? Have I got a treat for you. Please join me in welcoming my partner-in-smut, Darien Cox (who I do writing marathons with using the Twitter hashtag #smutordie).
Darien writes scorching hot m/m books and recently released his sequel to Guys on Top, called Guys on the Side.
*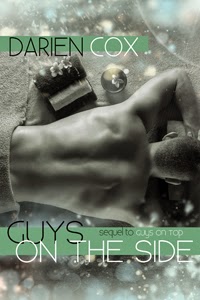 Q) Guys on the Side is your first sequel, correct? And as I recall, you stated on your blog that you'd decided NOT to write a sequel to Guys on Top…so what changed?


A) Yes, I did say I'd never write it! After Guys on Top came out last year I was all blubbery with postpartum book sadness and wanted to continue with the characters, but at the time I didn't have an angle, it hadn't yet occurred to me to make it all about Corey. I didn't want to add conflict to Doug and Stewart's life because they'd gone through so much to get together I couldn't bear it. So what changed is that Corey started speaking to me again so I decided to give his story a go, see what he had to say, which turned out, was quite a lot.
Q) Did you find it more difficult writing a sequel as opposed to a brand new book with fresh characters, or was it easier because they were familiar to you?


A) It definitely flowed more easily because I knew the characters, so they had a lot of life in them already. But because I brought new characters into it and a whole new plotline it was still a challenge getting all the pieces to fit.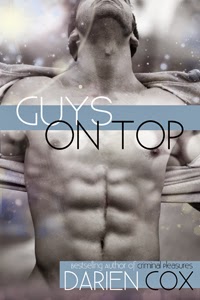 Q) With the first book, Guys on Top, there were a lot of readers who strongly disliked Corey. Did this influence your decision to write his story at all? Did you see it as a risk?


A) That's true, some people really hated him, and let me know how strongly they felt! I've never had such conflicting feedback about a character before, it was kind of interesting, split down the middle between those who loved him and those who wanted to lynch him in the town square. I loved him of course, but certainly understood when people didn't, he WAS quite the antagonist.
But I have a lot of extroverted, wiseass friends like Corey. I'm personally a shy, more subdued type of person so I think I'm drawn to that opposite type, and I know everyone has multiple layers. That's what I wanted to do with Corey, peel some of the outer layers away and expose his insides. I didn't see it as a risk because I don't allow myself think that way, I need to write what I'm feeling, and I was feeling Corey, his story wanted to be told.
Q) Introducing Angelo as a love interest for Corey transformed Guys on the Side into a 'gay for you' story. What made you decide to introduce this dynamic into Corey's life?
A) I had to find something that would set Corey off-balance, which wasn't easy. Corey had an almost otherworldly quality in the first book, the guy who seemingly has it all, good looks, quick wit, desired by lots of men, always lands on his feet. By introducing a 'straight' man into his life was a way to present Corey with something unfamiliar for a change, something to make him second guess himself.
Also, I thought it would be interesting to do a gay for you story where the trepidation exists more in the out gay character than the straight one. They both experience a rebirth – but Angelo's coming out wasn't the primary rebirth in the story. We see Corey go through a major change and self-reflection where he experiences a newness that he, with his promiscuous history, has not felt in a very long time. It rejuvenates him, but it also knocks him off kilter.
Q) How realistic do you think Angelo's scenario is, discovering that he's attracted to a man at the prime of his life, even though he's never had such feelings before?


A) Well, it's certainly not common, but it's an enjoyable fantasy. As a reader I dig books with a forbidden fruit quality. Corey has this magnetism that's almost magical, so I thought it would be fun to have that backfire on him in a way he wasn't prepared for. Corey's a bit of a know-it-all, thinks he has the world all figured out, so I wanted to throw something at him that would mess with his confident reality.
Q) The destruction of Corey's relationship with Zach was pretty intense and dark in places. Do you think including these details made Corey more sympathetic?


A) That wasn't my goal, but I suppose it was part of stripping Corey down to a vulnerable place so he could be truly renewed. But I thought it would be a cop-out to just start the story with 'And then Corey and Zach broke up' simply to move Corey on to a new romantic venture. As they say, relationships always end badly, otherwise they wouldn't end. In life, romance is messy, we choose people who end up being bad for us, we stay too long trying to fix the unfixable, and sometimes we lay ourselves bare before someone who ends up figuratively kicking us in the balls. It's important to me to make a story as real as possible, so I didn't want to sugarcoat the bad stuff that happens and the things that end to make way for new beginnings.
Q) Do you have plans to continue with this series?


A) Not at the moment, but as I learned recently, never say never. It could happen. I like beginnings more than continuations, so a fresh angle would have to present itself for me to bring these characters back. Sure, I'd LOVE to just keep writing these guys, but only if it's a fresh and realistic plot that can carry a whole story. This was a great experience, but I'd say as a rule, sequels are not my thing.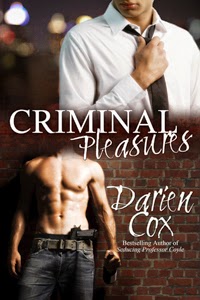 Q) If you had to write a sequel to one of your other books, like say if someone was holding you hostage Annie Wilkes style and forced you to choose one, which book would it be?


A) Eek! Under pressure I suppose I'd choose Criminal Pleasures, because with the organized crime and the undercover elements and all that, there are certainly things from Brendan and Marc's past that could come back on them and create conflict and chaos. But I'd prefer to just think of them as living happily ever after, because I'm a sap.
Q) Which of your characters (in any of your books) would you say is the most like you, if any?


A) Definitely Doug Crandall in the Guys books.
Q) What are you working on now? Can we expect another book from you soon?


A) I'm beaching it! (After all the snow we got this winter I couldn't bear anything but a summer setting.) I'm working on a new book in a seaside town, and getting ready to torment a whole new set of characters, which I hope will be ready to meet the world this coming summer.
*
About Darien Cox: Darien Cox lives in New England, bouncing back and forth between the mountain and the ocean states, anywhere there's a wave or a ski slope. A nature lover and thrill seeker, he enjoys exploring the intensity, insanity, humor and chaos that accompanies cupid's arrow, whether it's love at first sight or just the overwhelming power of lust.
Visit him online at www.dariencox.com