Well, it's been a year and a half (I am sorry to fans of this series) but the third Cats & Conjure novella, Stray Cat Strut, is now up for pre-order.
It releases September 18, 2015. Once again it's around 100 pages, the length of the others. And yes, it has another cliffhanger, although a huge part of the main plot is resolved in this one. Addie and Erik will be back in the fourth novella, Alley Cat, which will likely release early next year. This series unfortunately isn't a big seller for me and needs all the support it can get–if you like the novellas, please consider leaving them a review and/or telling a friend (and for God's sake, stop pirating them if you would like them to release faster).
Cats in Heat and Cat Scratch Fever will both be on sale for 99c each for the month leading up to Stray Cat Strut's release, so if you haven't started reading these books, you can wait until then and get them really cheap.
If you HAVE read the series and need a recap, I'll be offering that for download on my blog when Stray Cat Strut releases.
Here are the details: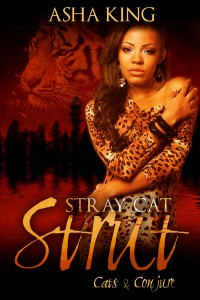 Adelaide Deveraux has escaped her enemy's compound along with her tiger-shifter lover, Erik Wells, but the home that had once been her sanctuary is now gone, burned to the ground and leaving them with no choice but to go on the run.
At least Erik knows a thing or two about running; he's been doing it for most of his life, and he's determined to keep Addie safe. Between their handful of allies and Addie's growing magic, he thinks they just might have enough resources to survive, and, for the first time in his life, sees a future for himself and the woman he loves.
But the powerful sorcerer on their tail has more than owning Addie in his sights. Now he's also out for revenge and not everyone will make it out alive…
Release Date: September 18, 2015
Genre: IR (bwwm) paranormal romance
Length: 32 000 words (or 100 pages)
Series: Cats & Conjure #3
Format: ebook
Ebook Price: $2.99
For those who prefer print, the entire first series of Cats & Conjure–which includes the first three novellas–will be released by October.