The third Cats & Conjure novella is finally here!
Recap and Sale
If you missed the previous books in the series, both are available for 99c EVERYWHERE for another couple of weeks.
If you read the books back when they first released in 2013 and need a refresher before launching into the third, you can download that here.
Giveaway
I'm at Romance Novels in Color today with a brief interview about Stray Cat Strut and my writing. You'll also find a giveaway for a $10 Amazon GC open to a few different countries. You have a week to enter to win. There's also a Q&A over at Darien Cox's website. Tuesday I have a guest post talking about the Beauty and the Beast influence on Addie and Erik, "Though Lovers Be Lost".
I'm also giving away a copy of any book from my backlist–enter to win at the bottom of this post.
New release
Without further ado, here is the info about Stray Cat Strut (want an excerpt? There's one here as well as at some of the places I have guest posts).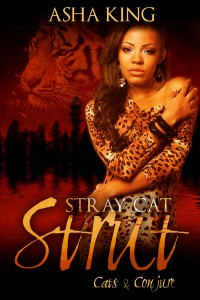 Adelaide Deveraux has escaped her enemy's compound along with her tiger-shifter lover, Erik Wells, but the home that had once been her sanctuary is now gone, burned to the ground and leaving them with no choice but to go on the run.
At least Erik knows a thing or two about running; he's been doing it for most of his life, and he's determined to keep Addie safe. Between their handful of allies and Addie's growing magic, he thinks they just might have enough resources to survive, and, for the first time in his life, sees a future for himself and the woman he loves.
But the powerful sorcerer on their tail has more than owning Addie in his sights. Now he's also out for revenge and not everyone will make it out alive…
Release Date: September 18, 2015
Genre: IR (bwwm) paranormal romance
Length: 32 000 words (or 100 pages)
Series: Cats & Conjure #3
Format: ebook
Ebook Price: $2.99
What about print?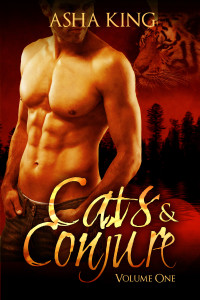 For those who prefer print, you can order the complete first volume of Cats & Conjure stories now (although the official release date was October 2). It's available on Amazon and CreateSpace. There will be an ebook boxset in the future, likely January-ish.
Is the series done?
There are more books in this series–three more. Unfortunately, they don't sell well. This means I can't rush and write them all at once–I hate to harp on this, but I literally cannot afford to, not when I invest more money in them than they're going to make back. At this point I am only completing them because I don't want to leave the handful of fans who love and buy the books hanging. I hope to have the last three out next year, but if this third does poorly, I may have to do some shuffling. Please do not yell at me for the delay. When books sell, I can write more of them faster; when they don't, everyone has to wait. Yelling at me does not make me write faster, it just makes me feel more guilty, which is not conductive to writing.
Please only obtain legal copies of my books. I'm paid on a per-purchase basis, and invest my own time and money into publishing my work. If you enjoy books, don't steal them. Massive thanks to those who do get things legally and support their favourite writers–it helps enormously and you are the reason I will finish this series.
Rafflecopter Giveaway