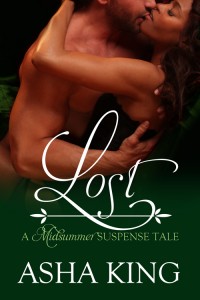 It turns out I haven't put out a book since…*checks*…May! Turns out, I haven't written anything either. My family had a rough year and while Beast did extremely well (THANK YOU to everyone who bought it), Gold did not, and I haven't been able to afford the time off to write. In addition, the news that All Romance eBooks wouldn't be paying me (and other authors) hit really hard, as I counted on that money.
I've been tackling the next Midsummer book off and on, and I think I might finally have a workable outline for it. At least I know where people are supposed to kiss, and that's half the battle in an outline. So, at present, I'm working on Lost, which is my contemporary take on Hansel & Gretel (no incest, though). No release date and no preorder yet, but I'll post when I've got some news.
Given that Beast did well, I'm looking at finally writing a particularly dark erotic thriller I've had percolating in my head for some time now. I'll provide more details and teasers later, but for now I'll just say that it'll likely appeal to fans of Beast and Sympathy for the Devil, and will be a very non-traditional romance with a lot of heat between two people born of tragedy.
I've had a lot of visitors lately looking into what I have in the pipeline (more Stirling Falls, more Midsummer, and yes, yes, I know–more CATS), and I'm sorry I haven't had more frequent, firm updates. I expected to release a lot last year and just sort of hit a wall. Hopefully being off readers' radars for so long won't negatively impact future sales too badly and I can get more works your way soon. Thank you for stopping by, your support keeps me going!
Asha