It's time to venture back to Midsummer for another dark contemporary fairy tale!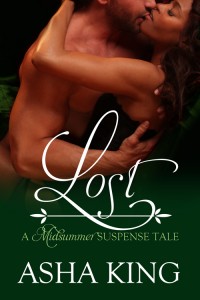 A single father's worst nightmare…
Clive Yates has been a single father for the past five years, raising his young kids on his own after their mother abandoned them. But his whole world is shattered the moment they're taken, and the police inform him the M.O. resembles that of a long-dormant serial killer of children. The dangerous forest outside of Midsummer is massive, and with no idea where to search, he fears his kids might not be found in time. But there is one person who has seen the killer's face, a girl who escaped with her brother so many years ago.
She survived what no child should ever suffer…
Fifteen years ago, Greta Weaver and her foster brother were abducted and brought to a cabin of horrors deep in the forest. They escaped, but just barely, both with scars that have made growing up difficult. She's tried to make a life for herself outside her childhood town, though nightmares plague her sleep and she's kept herself isolated. Her abductor—almost killer—was never caught, and part of her always remained lost in those woods, afraid of what would happen if he found her.
When Clive comes to her for help, she just wants to hide from the world, but can't bear the thought of seeing a parent lose his children. She'll have to confront her fears–and her past–if Clive is ever going to see his kids again.
Release Date: March 24 2017
Genre: IR (bwwm) contemporary romantic suspense
Length: short novel (45K words or 140 pages)
Series: Midsummer Suspense
Format: ebook & paperback
Ebook Price: $3.99
Print Price: $8.99

Kindle – Nook – Kobo – iBookstore – Smashwords – Paperback
It really is dark–TW for discussions of child abuse, and graphic violence–but like any good fairy tale, it has an undercurrent of hope and survival. This was a really tough book to build a romance around given the heavy subject matter, but giving these two people going through such horror time to find each other was really rewarding for me as a writer.
I have another WIP in progress but don't have a draft ready yet so there's no pre-order–I'm hoping at this point for maybe a June release. Details coming as soon as I have them.
Thank you for reading and I hope you enjoy LOST! Brief excerpt under the cut.
The fire had died down to embers, leaving Greta shivering when she opened her eyes to the blackness of the forest. She stuffed down panic at the complete darkness around her, reassured herself this was normal—they were in the woods, after all, and the clouds she'd seen approaching earlier now blocked out the moon as well as most of the stars. She missed the warmth and the glow of the fire, and briefly wondered if she should bring it back to life, if only for the comfort it might give.
As her eyes adjusted, she saw the outline of Clive beside her and something ached within her chest. It looked like his back was still to her and she wished things had gone differently, that they were wrapped in each other's arms. Instead she felt isolated and cold, more alone than she had in days. The openness of the forest around them pushed on her—she couldn't just get up and check the locks to feel secure like she normally did. Out here there was no protection. She shifted onto her other side, staring into the darkness.
Prickles ran up her spine, made the hairs on her neck stand up. She felt something—someone—staring at her, the weight of their gaze heavy and purposeful.
Bears. Had they packed up everything? Or raccoons. God, there could be anything out there, but surely Mike wouldn't have sent them out if it was dangerous.
She blinked a few times, trying to make out any possible shapes, but all she caught was layer upon layer of shadow. The sheer depth of it, like a void just beyond their tiny camp, was staggering. There was no sound out of the ordinary—leaves rustling, but that was wind, and the scampering of tiny feet up trees. Nothing to suggest the heaviness of a predator's steps. Nothing to suggest humans.
Whatever it was—if anything was actually watching—they likely wouldn't want to be near the fire. Animals hated fire, everyone knew that. She shifted onto her elbows and reached for the branch they'd kept near the fire pit to stoke the flames a bit. Fire crept up again, and she shuffled a few more dry branches and grasses in. They smoked and slowly burned, the fire coming to life and bathing her in warmth again.
In the corner of her eye she caught a flash of orange.
Greta bolted up, grip tightening on the long branch as a weapon now, her heart hammering. She picked through the darkness, but after staring at the fire, she couldn't see anything now, just blobs of green dancing in front of her eyes. There was nothing there she could find—the figure, a distinctly human-shaped one, must've retreated.
She glanced back at Clive, debated waking him. Would he even care? Would he think she'd had a nightmare, now that he knew she had them—now that he'd seen her have a panic attack and otherwise seemed nuts? No, he wouldn't believe her. He'd think she was paranoid. She crept back down to sit, her back to the fire, branch in both hands.
But she wasn't crazy—she'd seen it. And though she couldn't say for certain what she'd seen, whether it was just her mind filling in the details, it did seem human-shaped. And that orange was a distinct hunting vest. Something she hadn't seen in fifteen years but could never, ever forget.