I think the number one search term that brings readers to my blog is
"Still in Love with You" Asha King
.
How Can You Mend a Broken Heart? came out in May, Wild Horses was in June, and Broken Heart's sequel was due out last July.
Then that thing happened where I got grumpy and didn't write for a while.
I tried to get back on the proverbial horse, I did. We'd aimed for Still in Love with You to come out in August. Then September. I mean, it's a 16-17K word novella–it shouldn't be that difficult to write, should it?
But I didn't write a word for four months.
I don't mean to harp on anything, folks. I know that 95% of the people reading this wouldn't dream of pirating a book (which, as a friend once said, stealing from a writer is like stealing from a homeless person–we make so little money, it's a terrible thing to do). And I don't particularly want to even be talking about this, but I feel bad every time I see someone looking for a book that was promised but isn't out yet. This is the reality I can't help and it's just one of the consequences of these things; every time I look at that doc, I just associate it with a particularly awful time in my writing life.
I also realized I much, much prefer romantic suspense to straight contemporary romance. I'm not as comfortable writing a non life-or-death conflict, and while many readers object to shorter novellas, I honestly have trouble trying to drag out relationship-based conflict when everyone just having a grownup conversation will suffice. It's a great genre but I think I'm better at writing suspense.
So as it stands, Still in Love with You is still contracted, still in progress, and will still hopefully be released a few months from now. It's just not the project I'm focusing on at this moment. I'd like to get some other work out there, both romantic suspense and a paranormal romance I've been plotting for a while.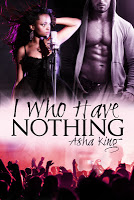 What am I working on? Still plugging away at I Who Have Nothing, which I hope to finish by the end of the month and then see if my editor likes it, and afterward I'll try to jump into Sympathy for the Devil–I'm pursuing some longer projects at the moment, which all take more time. I also signed an audiobook contract for Wild Horses so I might have news on that front soon.
But, lesson learned, I'm not going to give any projected dates or publicly mention deadlines, as anything can happen.
As always, thank you so much for reading and I hope you can join me for what I have planned for the new year.
-Asha