If you haven't caught up yet with the Cats & Conjure series yet, now's your chance: the first boxset is available in ebook. This is the first three novellas all in one release, about 300 pages or 95K words.
The details: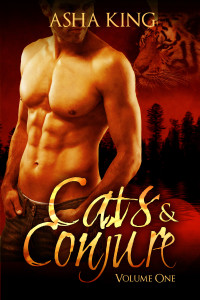 Adelaide Deveraux has lived a quiet life in the country after inheriting her late grandmother's home, but that life is interrupted when a tiger shows up at her door, shifting into a very injured—and very naked—human man in need of help.
Erik Wells has been on the run his whole life, now from the underground gladiator ring who abduct shifters and have them fight to the death for entertainment. Though he needs to keep running, but something about Addie draws him to her home and her care. The tiger in him senses it: there's more to Addie than apparent at first glance—more to her knack for working with roots and herbs; more to her prophetic dreams; more to the secrets buried in her family history.
A bond they try to deny draws them together as Addie heals Erik, throwing the pair in the path of the psychopathic sorcerer hunting him. From there, the peril's just beginning, for Addie is more powerful than anyone could've guessed and dangerous people seek to exploit her magic.
This volume contains Cats in Heat, Cat Scratch Fever, and Stray Cat Strut.
Print Release Date: October 2, 2015

Ebook Release Date: January 8, 2016

Genre: IR (bwwm) paranormal romance

Length: 3 novellas (95K words or 300 pages)

Series: Cats & Conjure

Format: print & ebook

Print Price: $11.49

eBook Price: $4.99
And no, this isn't the end of Addie and Erik's story–there are three more novellas I'm hoping to release this year. If you dig these books, please tell your friends and consider leaving reviews–they're my lowest-selling titles (as much as I love them) and while I'm determined to finish the series for readers, I take a financial hit on each one. Any extra support the stories get, I greatly appreciate.
I hope to have news about Alley Cat VERY soon–I'm aiming for a late Feb/March release, but that'll depend on how the writing of it goes.