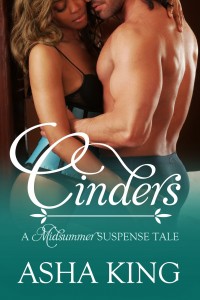 The mysterious girl he can't forget…
Things haven't been the same since the death of Gina Cassidy's father. It thrust her under the rule of her cruel stepmother and turned the family bakery into something unrecognizable. But now Gina's an adult, not a frightened child, and she has a plan: figure out what secrets her stepmother has been hiding and how it relates to her father's death once and for all.
The complication she doesn't need but desperately wants…
When reformed troublemaker Brennen Prescott weaves his way into her life, her desire for a different future—her desire for him—can't be denied, even if it upsets the fragile balance around her.
But getting close to Brennen puts more than her carefully laid plans in jeopardy: his life will be in danger if she can't unravel her own dark family secrets in time.
Release Date: July 25, 2014
Genre: IR (bwwm) contemporary romantic suspense
Length: long novella (37K words or 120 pages)
Series: Midsummer Suspense Tales
Format: ebook & paperback
Ebook Price: $2.99
Print Price: $7.49
Kindle – ARe – Nook – Kobo – iBookstore – Smashwords – Paperback