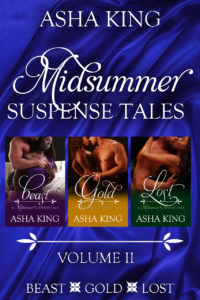 Exclusive to Kindle Unlimited temporarily!
In the sleepy hamlet of Midsummer, the people seem friendly and peaceful. But when dusk falls, the town's dark underbelly is exposed. Danger lurks around every shadowed street corner, where neighbors are not who they seem and true love's happily ever after is never guaranteed.
Welcome to Midsummer Tales, Asha King's fairytale-inspired romantic suspense series.
(Contains books #4 – #6. Although each Midsummer Tale is standalone, they're best enjoyed in chronological order.)
Beast: Joseph believes he's more beast than man, even as Belle's presence gives him hope for redemption. But beyond the lies surrounding her identity that could destroy their budding relationship, a twenty-year-old secret is buried deep in Midsummer, one from Joseph's past that might claim both their lives.
Gold: Kryssie Locke is known in criminal circles for spinning nothing into virtual gold, a reputation she built to save her life. She's escaped at last with enough knowledge that her former employers are hunting her, and hiding out in a cabin in the woods seems like it'll give her time to figure things out. She doesn't realize the cabin is owned by the Ross family, nor is she expecting their youngest son to crawl into bed with her when he mistakes her for his ex-girlfriend.
Lost: Fifteen years ago, Greta Weaver and her foster brother were abducted and brought to a cabin of horrors deep in the forest. They escaped, but just barely, both with scars that have made growing up difficult. She's tried to make a life for herself outside her childhood town, though nightmares plague her sleep and she's kept herself isolated. Her abductor—almost killer—was never caught, and part of her always remained lost in those woods, afraid of what would happen if he found her. When Clive comes to her for help, she just wants to hide from the world, but can't bear the thought of seeing a parent lose his children. She'll have to confront her fears–and her past–if Clive is ever going to see his kids again.
Release Date: July 30, 2017
Genre: IR (bwwm/bwam) contemporary romantic suspense
Length: three short novels (150K words or 500 pages)
Series: Midsummer Suspense
Format: ebook
Ebook Price: $7.99