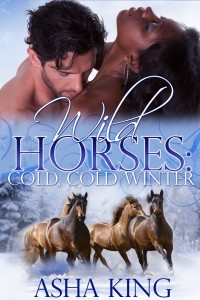 Six months after the events of Wild Horses, blogger Danyiah Jackson happily lives in the country, loving—and often shocking—her broodtastic horse wrangler boyfriend, Adam Cooper.
But her surprise Christmas present for him, done as a prank for her blog and to spring some life-changing news, incites an argument months in the making, bringing the insecurities and vulnerabilities of the pair to the forefront. Adam wants more than he fears she's willing to give, and Dani has a secret of her own that she fears will tear everything apart.
Is a happily-ever-after really possible for an opposites-attract romance?
Release Date: September 2013 (originally published December 2012)
 Genre: IR (bwwm) contemporary romance
Length: novella (16K words or 55 pages)
Series: Stirling Falls #1.5
Format: ebook
Ebook Price: $0.99