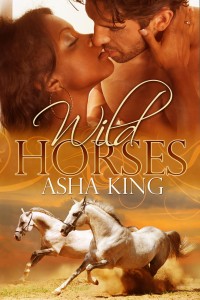 Popular blogger Danyiah Jackson is known for finding the humor in anything—until some of her fan mail turns threatening and a stalker makes it clear he's been watching her. She grudgingly accepts the advice of a threat assessment expert and disappears from the online world, taking temporary refuge at a family friend's quarter horse ranch in the country.
Head horse wrangler Adam Cooper isn't thrilled about the smart-mouthed young woman suddenly living and working at the ranch—even if she's drop dead gorgeous. But their verbal sparring sets his body ablaze and gets his heart racing, and he's drawn to her despite his misgivings.
As Danyiah and Adam fight their attraction, however, her stalker draws near, putting not only their fledgling love but their lives on the line.
Release Date: September 2013 (originally published June 2012)
Genre: IR (bwwm) romantic suspense
Length: short novel (48K words or 150 pages)
Series: Stirling Falls
Format: ebook & paperback
Ebook Price: $3.99
Print Price: $9.99
Kindle – ARe – Nook – Kobo – iBookstore – Smashwords – Paperback