It's time to venture back to Midsummer for another dark contemporary fairy tale!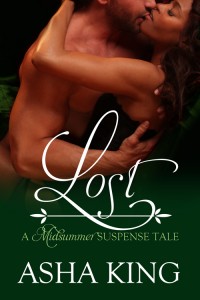 A single father's worst nightmare…
Clive Yates has been a single father for the past five years, raising his young kids on his own after their mother abandoned them. But his whole world is shattered the moment they're taken, and the police inform him the M.O. resembles that of a long-dormant serial killer of children. The dangerous forest outside of Midsummer is massive, and with no idea where to search, he fears his kids might not be found in time. But there is one person who has seen the killer's face, a girl who escaped with her brother so many years ago.
She survived what no child should ever suffer…
Fifteen years ago, Greta Weaver and her foster brother were abducted and brought to a cabin of horrors deep in the forest. They escaped, but just barely, both with scars that have made growing up difficult. She's tried to make a life for herself outside her childhood town, though nightmares plague her sleep and she's kept herself isolated. Her abductor—almost killer—was never caught, and part of her always remained lost in those woods, afraid of what would happen if he found her.
When Clive comes to her for help, she just wants to hide from the world, but can't bear the thought of seeing a parent lose his children. She'll have to confront her fears–and her past–if Clive is ever going to see his kids again.
Release Date: March 24 2017
Genre: IR (bwwm) contemporary romantic suspense
Length: short novel (45K words or 140 pages)
Series: Midsummer Suspense
Format: ebook & paperback
Ebook Price: $3.99
Print Price: $8.99

Kindle – Nook – Kobo – iBookstore – Smashwords – Paperback
It really is dark–TW for discussions of child abuse, and graphic violence–but like any good fairy tale, it has an undercurrent of hope and survival. This was a really tough book to build a romance around given the heavy subject matter, but giving these two people going through such horror time to find each other was really rewarding for me as a writer.
I have another WIP in progress but don't have a draft ready yet so there's no pre-order–I'm hoping at this point for maybe a June release. Details coming as soon as I have them.
Thank you for reading and I hope you enjoy LOST! Brief excerpt under the cut.