This has been an extremely long time coming, which I apologize for both here and in my author's note in the book, but the final Cats & Conjure novella is now available in ebook and paperback wherever books are sold.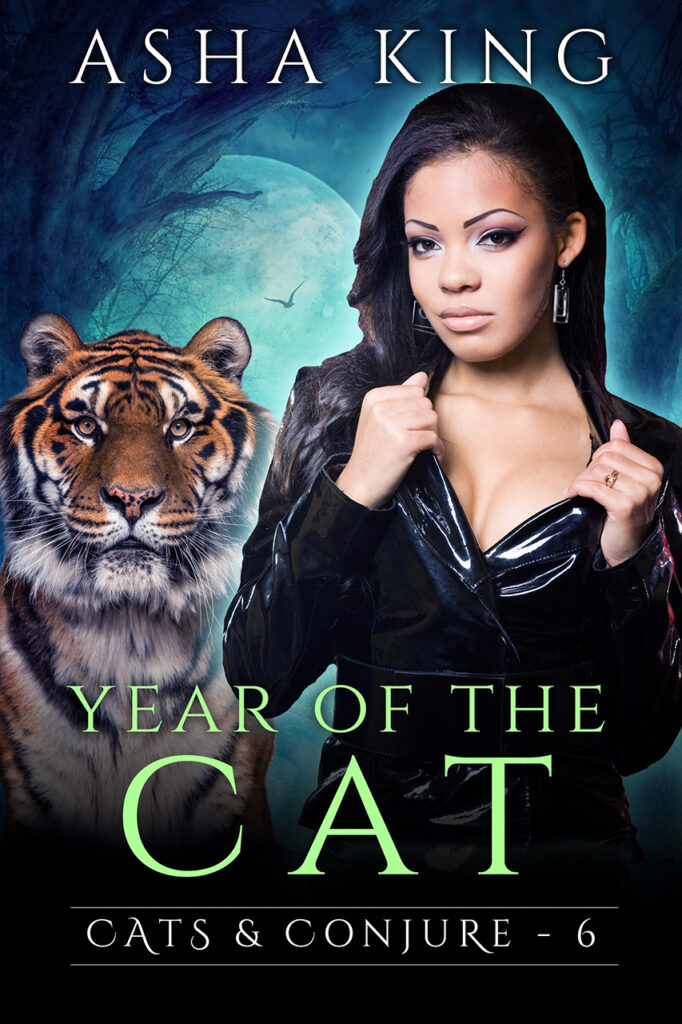 The conclusion to Asha King's paranormal romance serial, Cats & Conjure, brings conjurer Adelaide face to face with her greatest enemy while trying to save those she loves.

Adelaide Deveraux is a powerful Sanctuary, able to hide and heal those who need it. Surrounded by guardians and with the love of her life at her side, a heavily pregnant Addie scrambles to find a way to stop the woman known as Deddeh, who is capable of consuming magic and leaving husks of ash behind.

Her lover, tiger-shifter Erik Wells, survived years of abuse at the hands of a deranged sorcerer and did terrible things to survive. Although he's been resurrected from death once before by powerful forces determined to draw him back to Addie, now his infection by Deddeh's hand threatens his life again and there doesn't seem to be a way to stop it. Whatever time he has left he wants to spend protecting Addie, but as a familiar face from his troubled past appears at the Sanctuary's island—one with a grudge and a reason to want Erik dead—he realizes it might not be the infection that kills him but his own misdeeds.

Everything is on the line for Addie, her family, and her friends, and saving them might mean sacrificing herself as she takes on Deddeh once and for all.
Release Date: June 1 2022
Genre: IR (bwwm) paranormal romance
Length: 34 000 words (or 105 pages)
Series: Cats & Conjure #6
Format: ebook and paperback
Ebook Price: $2.99  
Kindle – Nook – Kobo – iBookstore – Smashwords – Paperback
This concludes not only the series but my writing career, per my retirement notice here, which goes into a lot more detail.
I know over the years there have been covers here for books I was working on and other things in the works, but I cannot see myself come back to them. I appreciate all the support from readers over the years and with the release of Year of the Cat at least no one is left hanging any longer, since all other series books are standalone. I don't expect more than ten of you to read it (as of writing this, the novella has made about twenty dollars lol) but those who get it, I hope you enjoy.
The likelihood is that I'm going to move my website over to free WordPress hosting later this year so I'll I'm doing is paying for the domain name; the book pages will all still exist, it's just to cut down on costs as I don't really make enough money anymore to justify the hosting. If you've bookmarked pages and they suddenly disappear, going back to ashaking.com should still work in the future.
If you like boxsets, next January the second volume of Cats & Conjure will release, and then next summer the complete series.